Save the earth and eliminate plastic wrap from reaching our oceans! With these reusable container lids, you'll never need plastic wraps for storing food again.
This 6-piece kit will ensure you can give any container in your home an airtight seal. Microwave and dishwasher-friendly, they're as easy to clean as any plasticware or dish. With the unbreakable airtight seal, they will keep your food fresher much longer.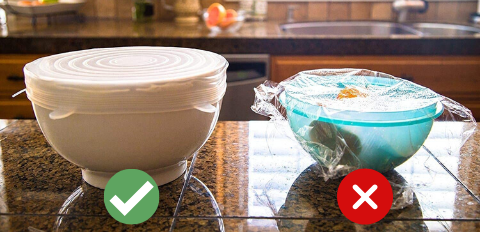 Safe and durable
Extra thick silicone is durable and will not tear or warp; can be used over and over again and are dishwasher and freezer safe.
Compatibility
One stretchy silicone lid is compatible with many container sizes and shapes.
Eco-friendly and economical
The silicone stretch cover lids will reduce your plastic waste and help you save money, since you will no longer need to buy cellophane to cover your leftover food fresh. Plus, the bowl lid does a much better job at keeping your food fresh!
Product description
2.6" (can stretches to 3.5")

3.7" (can stretches to 5")

4.5" (can stretches to 6")

5.6" (can stretches to 8")

6.3" (can stretches to 9")

8.2" (can stretches to 11")
Highlights:
6 sizes for you to choose, different size fits your different needs.
Made of non-toxic and environmental silicone material, practical and durable to use, easy to clean.
The silicone lids made of 100% food grade silicone approved dishwasher and freezer safe and Microwave-safe & heat-resistant to 450 F come out the same as you first saw it.