⭐️⭐️⭐️⭐️⭐️ " Just inflated my new camping mattress with our Pumpie Mini Air Pump. Just 30 seconds and I am absolutely feeling great. This pump works like magic! The Lantern is definitely a plus and so far I have not charged it again after 2 trips, battery life is great! It is now in my adventure pack!"

~ Shanon P. ~
✅ - Verified Customer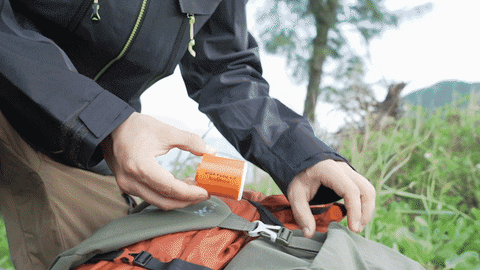 Inflating and deflating the camping mattress and other outdoor essentials has never been easier with the new  Pumpie™ - Powerful Pocket Size Air Pump for Outdoors Enthusiasts! 
Say goodbye to manual pumping or blowing at the top of your lungs then getting nauseated to inflate your mattress, waiting for long minutes to fully deflate and keep your mattress and bringing super heavy air pumps on your trips.
As your prepare your next adventure pack make sure you bring the Pumpie™ . It is the newest practical, efficient and smart must have gadget for all camping, hiking, fishing and outdoor adventure lovers! Super light weight, powerful, and multifunctional!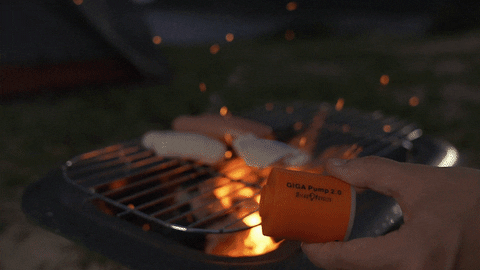 Here is why you will love our Pumpie™



Fast Inflate Speed
With a 180L/min flow rate and 3.5kpa high pressure, Pumpie™ could fully fast inflate a single air mattress in just 30 seconds.
It is the perfect tool to carry with you when you go out camping in the wilderness,  to the beach in summer; it can quickly inflate your swimming tube, air cushion and any other inflatable tools.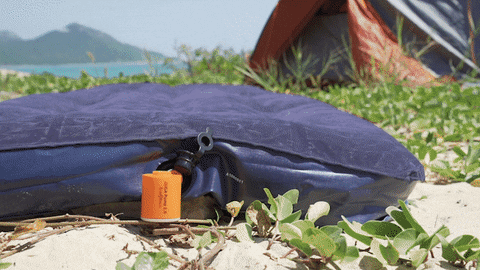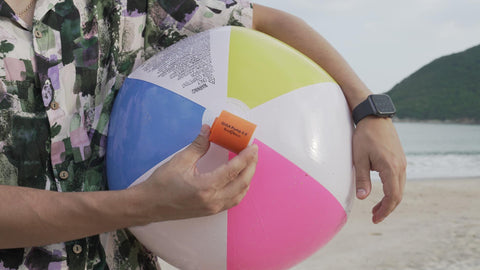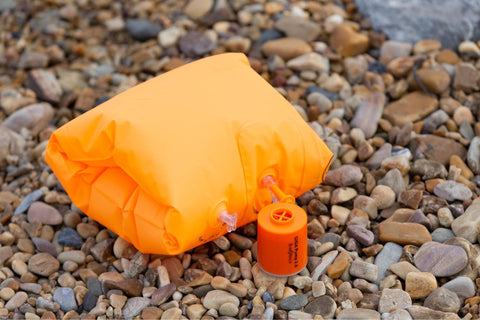 Portable light / lantern! 
The biggest improvement is that Pumpie™ is equipped with an ultra-bright lantern with three levels of brightness. Depending on usage battery lasts :
First level (40 Lumens) -  10 hours, this should be enough to light up your sorroundings and keep it as your night lamp
Second level (160 Lumens) - 2.5 hours, in case of car breakdown , searching for something without any other lights, this should give you a wider light to cover more space. 
Third level (400 Lumens) - The widest coverage of light to cover largest space area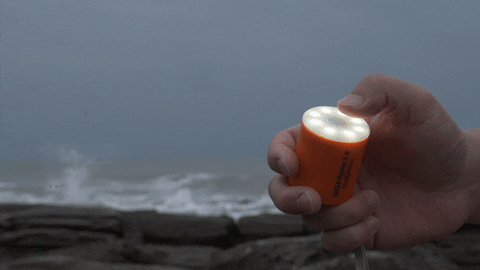 Whatever you do and wherever you are, you will be sure you have some light. The Pumpie™ has a battery life of up to 10 hours, providing more convenience for your outdoor and daily activities.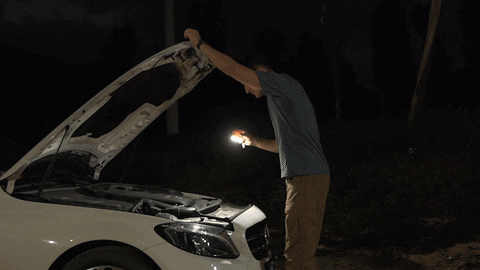 5 nozzles 
It comes with 4 different nozzles to fit most air mattresses, inflatable pool floats, swimming rings,  yoga ball and kid's toys. 1 nozzle for vacuum bag to save you more than 50% of space.
Pumpie™ is not limited to outdoor use, but also very suitable for home use. Inflate and deflate your vacuum bag to store extra quilts and off-season clothes. Turn on the exhaust switch, it will quickly suck all the excess air in the vacuum bag.

 Ultralight - Key Size
Pumpie™ has an ultra-portable design, weighs only 89g, and is the size of a key. Hang it anywhere you want, can take it with you anytime, anywhere or even put it in your pocket, it can easily fit anywhere!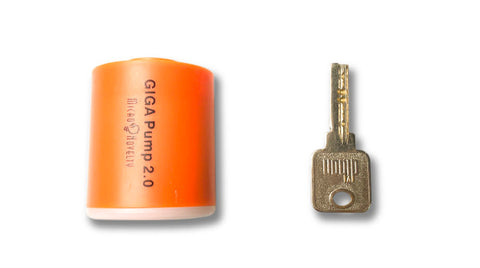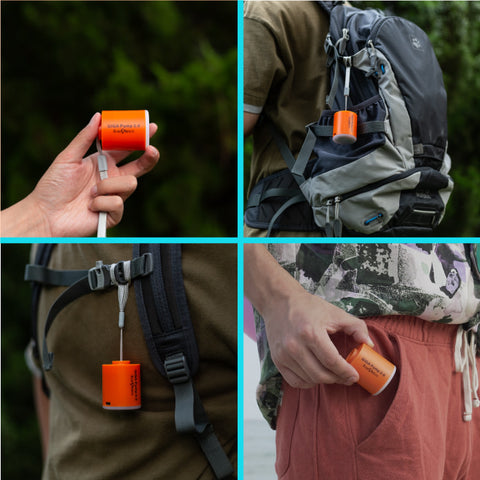 Long Lasting Battery Life 
When in Full charge is sufficient to inflate more than 10 single air cushions, or vacuum more than 20 large vacuum bags, or last for 10 hours of lighting.

It is powered by a 1300mAh rechargeable lithium-ion battery.

Pumpie™ can be charged by a fast Type C port, you could charge it by a powerbank, a normal wall charger, or a PC computer. It is super convenient in all your life.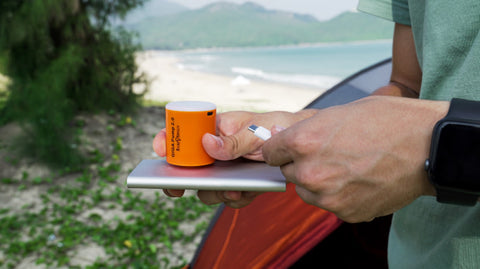 How To Use the Pumpie™
Choose the appropriate nozzle connector for the inflatable object.
Attach nozzle to the inflation port
Double tap the round button to start inflating
To deflate, attach the nozzle at the wide round orange port then  double tap the round button to start deflating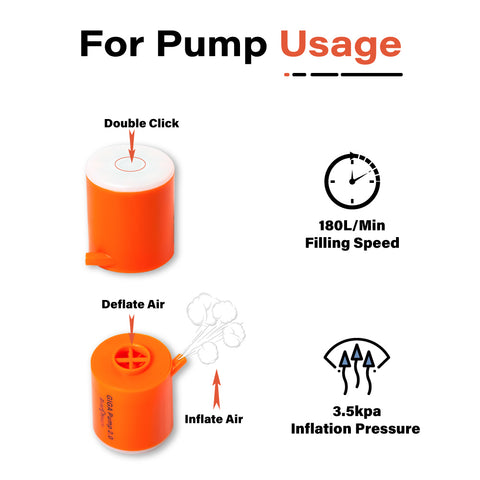 How To turn on the Lantern
To turn on the Lantern, press the round switch for 3 seconds. 
To increase the level of brightness, tap once to achieve 200 lumen and then tap again  the for the brightest level. 
To turn off, just tap the round switch again until light turns off.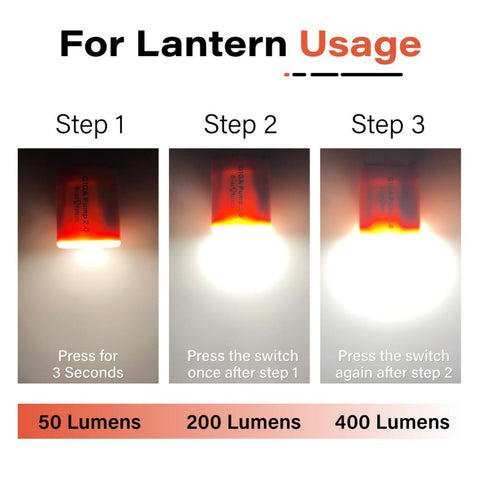 Specification: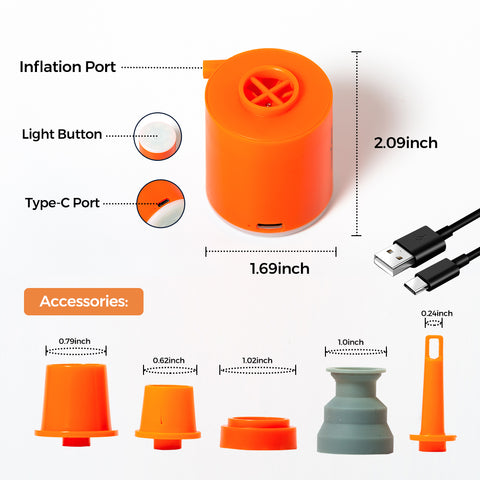 Material: EVA
Size: 43*43*53mm
Voltage: 13.5w
Inflation speed: 180L/Min
Inflation pressure: 3.5kpa
Inspiratory pressure: 3kpa
Electricity: 1300 mA
Compression rate: 50%
Accessories: with 5 gas nozzles
Brightness/use time: 40lm/10hrs, 160lm/2.5hrs, 400lm/hrs
Light color: 4500k white

Applicable objects: Inflatable neck pillows, swimming rings, inflatable cushions, inflatable beds, yoga balls, inflatable toys.
NOTE : Do not use on extremely high pressure inflation such as basketball, tires and all other sporting balls.
WHAT IS INCLUDED: 
1*Superb Giga Air Pump 2.0
1* Guide
5*Different nozzles
1* USB Type C cable