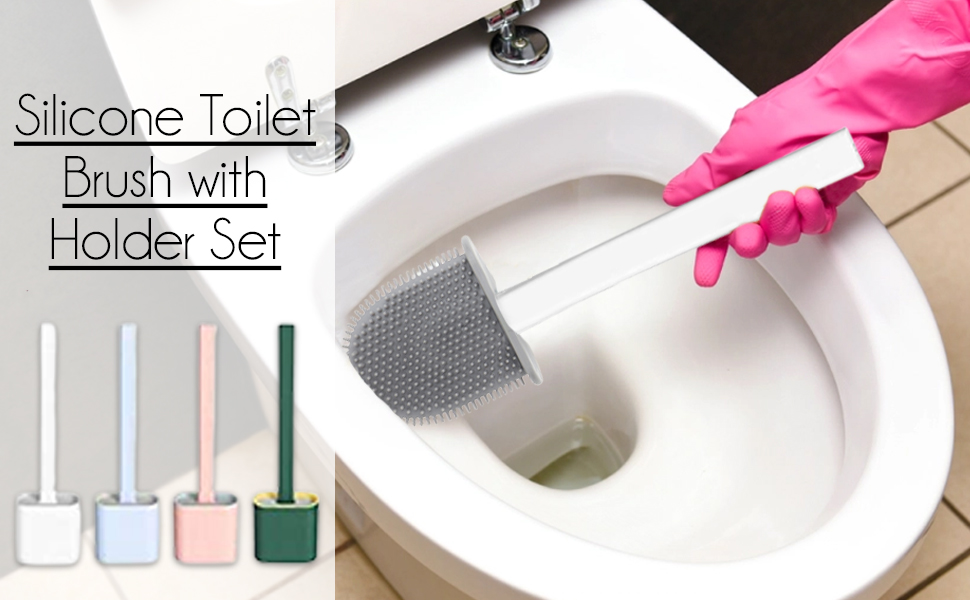 Silicone Toilet Brush with Holder Set - No-Slip Long Handle Soft Silicone Bristle Clean Toilet Corner Easily
We help you to create a Statement Home Environment with a Range of Home Centre Products. We recommend products we love and that we think you will too. Our more polished bath & laundry products looks also hit all the right marks.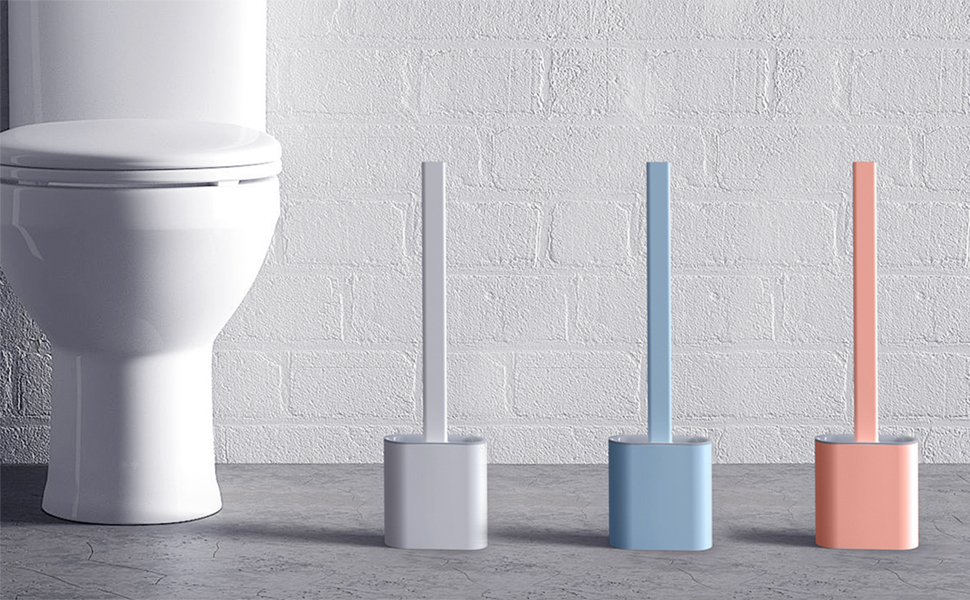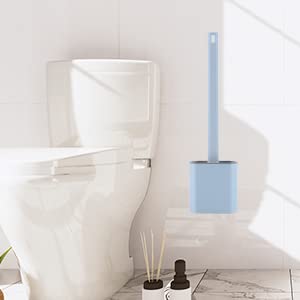 More detail of the brush:
Flat brush
More effective at cleaning under the rim of toilet bowls. Not easy to stain or shed brush bristle and it is very easy to clean.
Provide sticker
The package comes with a pair of stickers that you can place it in a cramped corner of the bathroom or hang on the wall.
Leak-proof bottom clasp
The holder comes with a leak-proof bottom clasp, so you don't have to worry about water from the brush smudging your floor.
Specification:
1 x Toilet Brush

1 x Wall Hooks
Additional Wall Hook

Additional wall hook is for you to hang on the wall. Or you can place it on the ground. Tidy your bathroom

Hollow Drain Design

The water just falls right off after cleaning the toilet. Therefore, when you put the brush into the holder, a whole bunch of nasty toilet water doesn't stay trapped inside of the holder and breed bacteria. The holes in the bottom of the holder is designed for ventilation and quick-drying.

Easy To Clean

With the bendable brush head and TPR material bristle, it is easy to clean the dead corner inside the toilet especially the grooves, and no scratching the glaze.
| | | | |
| --- | --- | --- | --- |
| Toilet | Wash basin | Bathtub | Floor tile |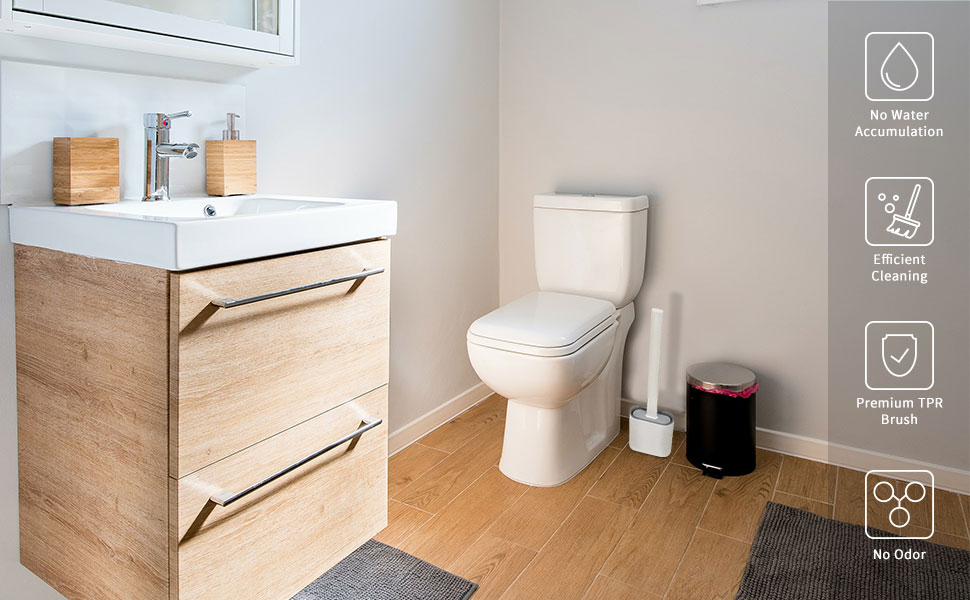 silicone toilet brush with holder set - brush for toilet deep cleaning - no-slip long handle soft silicone bristle cleans toilet corner easily. Who'd have thought that cleaning the toilet could be fun? Silicon toilet brushes are easier to clean and have a more germ-free experience. Silicone attracts fewer microorganisms than plastic because silicone is non-porous and resists the accumulation of organic matter from the toilet, Silicone dries much faster than plastic, so it's less likely to accumulate microbes.
WASHABLE BRUSH HEAD

Won't get dirty, the brush head dry's fast after cleaning the toilet, no places for stains to hide. The detachable and washable base makes it cleaner and hygienic, plus design of hollowed-out and breathable base to make no water accumulates underneath

HIGH QUALITY TOILET BRUSH + SINK BRUSH

The silicone toilet brush has a double-sided brush head for easy cleaning of the toilet bowl and toilet lid.

SUITABLE FOR MANY SCENARIOS-Toilet Brush

Silicone toilet brush is suitable for home bathrooms, hotels, hospitals, nursing homes, offices, schools, etc.
GOOD-CLEANING

Silicone bristles have good cleaning ability. The brush head can be bent, which is convenient for cleaning the toilet, toilet lid, inside gap, toilet lid gap, inside gap, toilet pipe, toilet box, toilet lid, edge, groove.

NON-SLIP HANDLE

Designed for non-slip, this handle makes it more comfortable to hold and easier to clean, perfect cleaning without pressing, reducing your cleaning time. Tweezers cleverly hidden in the handle can be used to clean hair and dirt in the sink and bathtub.

QUICK DRYING HOLDER

Packed with a stable & breathable holder base, it is good for ventilation and keeps the base cleaning. Durable enough for a long time using.